Does reverse osmosis waste water? People ask me this question every day. At issue is the fact that for every gallon of purified water produced by a reverse osmosis system some amount of water goes down the drain, carrying along with it the unwanted contaminants from the water source.
Depending on a variety of factors (including water temperature, dissolved solids, contaminants) the amount of water going down the drain will vary. It is not a fixed amount. The amount of water going down the drain is significant, but in my view it is not waste.
The dictionary defines waste as 'To use, consume, spend, or expend thoughtlessly or carelessly'.
The water used in reverse osmosis systems does not meet this definition of waste. It is what I would call 'process water', that is water used to accomplish a specific goal, in this case the goal is purified drinking water that is free of contaminants.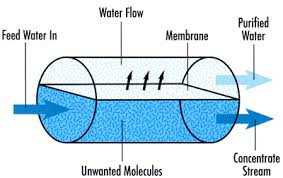 I recommend a reverse osmosis drinking water system when it is the appropriate system to remove the contaminants present in your water. The alternative is to drink those contaminants and to then experience their negative health effects.
So do reverse osmosis systems waste water? I think not. Does a clothes washer waste water? Or does it accomplish a specific task? We humans are very subjective in our use of words. We think that water we don't get to pee in or drink is wasted and yet when we use a reverse osmosis system we are using water to accomplish a goal just as we do when we shower or wash clothes.
I suggest you ignore those who tell you that reverse osmosis wastes water and instead focus on determining which water filter will provide you with the healthiest drinking water possible. That may or may not be reverse osmosis. If you want to know which water filter is the best, then obtain a copy of your local water report and give me a call.