When buying a whole house water filter size is important.
One aspect of water treatment seldom mentioned to consumers is contact time. Incoming water must remain in contact with the carbon in your filter for a certain amount of time in order for contaminants to be removed. In the case of chloramine, which is very difficult to remove from water, a 2 cu ft whole house water can completely remove chloramine at a flow rate of 3 gallons per minute (gpm). If the water is flowing faster than 3 gpm some chloramine will remain in the water. So the size of your whole house water filter is important to removing contaminants.
Another issue is that cities will add more chloramine in the summer months and less in the winter. The amount of chloramine in your water also matters.
Most whole house filters are tested for the removal of chlorine, which happens to be the easiest contaminant in water to remove. NSF42, an aesthetic certification touted by water treatment dealers relates to the reduction of chlorine.
Consumers are often fooled into thinking that this certification means their water is contaminant free. However, this is not the case.
Chloramine is a combination of chlorine and ammonia. Sometimes cities add it to water intentionally. Other times it is in your water because they've added ammonia separately and it then combines with chlorine on its own.
While chlorine is easy to remove other contaminants are not. Chloramine is much more resistant to removal. It requires a specific type of carbon or a larger whole house water filter. When you review your local water report be sure to notice the contaminants called trihalomethanes and haloacetic acids. These compounds are created from an interaction between chlorine and organic material in water. They are highly carcinogenic. They are also more difficult to remove than chlorine and require more contact time.
When buying a whole house water filter you want to be able to remove these compounds too, yet no one measures their removal and NSF certifications don't test for them. So in my view this certification is not particularly useful when evaluating what filter to buy.
If you want to be drinking or bathing in water from which the carcinogenic volatile compounds have been removed then you need to size your whole house water filter according to your anticipated water usage.
A 2 cu ft system is typically adequate for a family of four, based on studies which show average water usage to be between 3 and 4 gpm in a household of this size.
If your household only consists of two people you still need the 2 cu ft system because a shower will still flow at 3 – 4 gpm. (Unless it has a flow restrictor)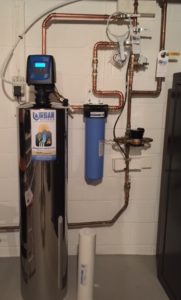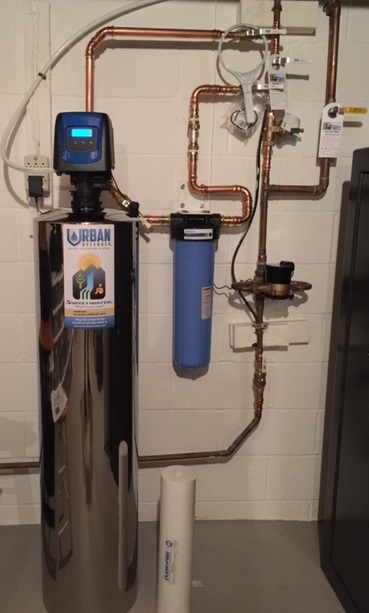 If you want to be able to use more water at the same time, ie: running multiple showers simultaneously, then it's a good idea to look at an even larger whole house filter. A 4 cu ft filter is often appropriate.
The small upflow filters sold by some companies may remove chlorine, but may fail to remove the other carcinogens mentioned above. They are not only less effective due to their design, but they don't have enough carbon to do the job. Learn more here.
When you are ready to purchase consider your water use. The size of the whole house water filter you buy is important.
Don't forget to look at your local water report. It lists the regulated contaminants present in your water. And if you read the fine print you can learn about numerous unregulated contaminants that are also in your water.
Sweetwater's Urban Defender is tailored to your specific water needs. You can purchase it with granular activated carbon (GAC) for chlorine or catalytic carbon for chloramine (and chlorine). It is available in 2, 4, and 8 cu ft sizes. Learn more here.
I've also just added an optional zeolite post filter for removing trace amounts of ammonia. Regardless of which company you purchase from be sure to buy something that achieves what you intend. The size of the whole house water filter you buy is important.