It's important to stay hydrated during these stressful times. Drink water to support your immune system. Water is important to maintaining all body functions. When you drink water it is absorbed through your intestines where it serves to replenish and detoxify your body.
Unlike the myth that you must drink 8 glasses of water each day you actually obtain water from drinks including coffee as well as from food. However, drinking a glass of filtered water is the best way to hydrate and I do this upon waking every day… before that first cup of coffee. I continue to drink water throughout the day.
It is critical that you stay hydrated during this time of stress in order to maintain your body's immune system. Body function is extremely complex. Blood delivers oxygen to the cells along with hormones and sugars…feeding the cells. Similarly the lymph system carries waste away from cells. Drinking water maintains these critical fluids.
Drinking Water Is One of the most Effective Actions We Can Take
Right now we are in self isolation but COVID-19 will be around forever and eventually we will all be exposed. I'm sure you've heard that it affects those most severely who are already immune compromised. As we self-isolate we can be working on building our immune system. Again, drink water to support your immune system.
I am no doctor and won't pretend to suggest what else you can do to support your immune system. Here are recommendations from a Naturopath here in Durango.
Filtered water is healthier for you than unfiltered tap water. This is a fact. Tap water contains carcinogens. Just look at your local water report to find the level of compounds known as the trihalomethanes and haloacetic acids in your water. These are formed when chlorine is added to water that contains organic material. They are volatile organic compounds and so they too are absorbed by your intestines and through your skin in the shower.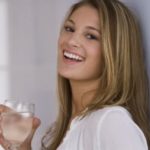 Tap water may contain many other contaminants. The US Environmental Protection Agency establishes the maximum level (MCL) of contaminants allowed in water. But these levels may still be harmful. Also there are numerous contaminants that may be in your water that are not regulated by EPA. Only by appropriately filtering your water can you be certain of what you are drinking.
When you drink filtered water you can enhance your immune system. I urge you to visit the links I have included in this article. They contain some very good information on other ways to protect yourself. Today, March 22, is World Water Day. I hope this post prompt you to take action.